World title at the double for Ward Hadaway's Graham Vials
LAW firm Ward Hadaway is home to a double world champion.
Graham Vials, an Associate in the Employment Law team at the Top 100 UK law firm, returned from the Flying 15 World Sailing Championships in Hong Kong having retained the title he and team mate Chris Turner won in 2011.
Graham and Chris have now joined a very select group of double world champions in the demanding discipline – only one person has ever won the title more than once.
It caps a particularly busy year for 33-year-old Graham, who became a father for the first time in September.
Graham said: "It was a fantastic feeling to win. Chris and I had a great week out in Hong Kong and everything went so well for us.
"The conditions were really good – it was warm but there was a good bit of wind and Hong Kong is a fantastic place to race."
Graham and Chris, managing director of North Shields boat-building company Ovington Boats, beat an international field comprising teams from the UK, Australia, New Zealand, Japan, France, Spain, Ireland and Hong Kong to retain their title in the event, which is held once every two years.
The pair won the seven-race event with a race to spare, having chalked up four wins, a second place and a fifth place in the first six races, which saw the yachts compete on a course taking in Hong Kong harbour and waters just to the south of the Far East island.
Their achievement was made all the more impressive by the fact that they had not been able to fit in much training before the event.
Graham explained: "Because we had already qualified having won the title in 2011, we didn't have to race to make the finals.
"My son was also born in September so we didn't have a great deal of time to dedicate to training!
"Our home club is Derwent Reservoir Sailing Club near Hexham but we were only able to get out on the water twice before the boat had to be shipped to Hong Kong. That takes six weeks so it was only really when we got to Hong Kong that we were able to get going.
"We had a Hong Kong Nationals event as a warm-up to the world championships and we won that as well so it went about as well as we could possibly have hoped."
Graham has been sailing since he was seven-years-old and was a professional member of the Great Britain sailing team for Olympic-class sailors for six years.
He narrowly missed out on selection for the British team for the Athens Olympics in 2004, although he was able to see his wife Katherine sail for Team GB in those Games.
Soon afterwards, Graham started training to become a lawyer, qualifying with Ward Hadaway in 2009.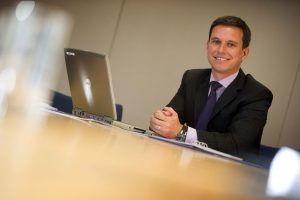 Since then, he has specialised in advising on a wide range of employment issues for some of the largest companies and organisations in the North East.
Graham was promoted to the role of Associate in 2013 and is a key part of Ward Hadaway's Employment Law team, which was placed in the top rank of law firms in the North East by independent legal guide Legal 500 in its 2013 edition.
Graham and team-mate Chris Turner, who is also a Ward Hadaway client, are now setting their sights on winning a hat-trick of world titles.
Graham said: "After the European Championships in Port de Pollensa, Mallorca next year, the next world championships are in 2015 at Hyeres in the South of France.
"Only one person has won the World Championships more than once since they were first raced in the 1940s and he won three in a row in the 1990s. It would be fantastic if we could do the same in Hyeres but we will just take it one step at a time."
Jamie Martin, managing partner at Ward Hadaway, said: "This is a terrific achievement by Graham. This is sailing at a very high level against the best in the world so to have won two world titles in a row whilst working in a demanding job is tremendous.
"Graham is a superb lawyer as well as a world-class sailor and we are very proud to have him on our team at Ward Hadaway."