Ward Hadaway announces senior promotions round
Ward Hadaway has announced the promotion of 13 lawyers across the firm to recognise the great talent within the business.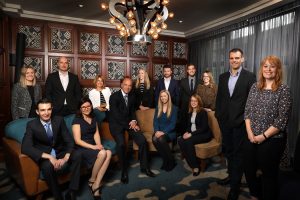 Gillian Chinhengo has been promoted to partner in the Employment team and Simon Thirtle becomes a partner in the Housing team. In addition, 11 lawyers have been promoted to associate solicitors.
Melissa Flynn, Hannah Taylor and Matthew Miller in the Real Estate team, Hollie Ball in the Employment team and Andreja Begus Harrison and James Donnelly in the Healthcare Litigation team have all become associates.
Others who have been promoted to associate include Vicki Alexander in the Debt Litigation team, Lucy Probert, Chris Bowen and David Taylor in the Commercial team and Kate McLean in the Corporate team.
Martin Hulls, Ward Hadaway's Managing Partner, said: "These promotions recognise the great contribution these lawyers have made to the firm and further strengthen the business for the future."
Gillian Chinhengo has been promoted to build on Ward Hadaway's successful Employment team, which now has seven partners.
Gillian specialises in advising a broad range of clients in a variety of sectors including manufacturing, the service industry, care homes, the motor industry, social housing, hospitality, and the charity sector.
Gillian is a great testament to Ward Hadaway's trainee programme and its focus on helping people develop their careers, having joined Ward Hadaway in September 2005 as a trainee.
She said: "I am delighted to be recognised for my work here at Ward Hadaway and have enjoyed the chance to build relationships with employment clients. I am looking forward to developing and strengthening relationships with our clients, and helping drive the firm's ambitious growth plans."
Employment Partner Paul Scope said: "We are delighted that Gillian has been promoted to partner. It is extremely important that we promote and develop our own people. One of the innovative projects that Gillian has been instrumental in has been the development of an online document portal for our market-leading employment product, HR Protect."
Simon Thirtle started work with Ward Hadaway as a solicitor in 2013. Specialising in dispute resolution for the property sector, he is an active member of Ward Hadaway's Social Housing Group, working with the firm's many registered provider and local authority clients.  He also works for a range of other organisations including housebuilders, supermarkets and fitness and leisure providers.
Simon commented: "I am delighted to have been promoted. Ward Hadaway is a great place to work – the firm has the size, expertise and client base which means that work is consistently stimulating and engaging. Our people continue to balance this with being able to maintain a friendly and supportive atmosphere in what is often a high-pressure job."
John Murray, who heads up the Social Housing Group at Ward Hadaway, said: "We are pleased to congratulate Simon on his achievement in becoming partner. These latest promotions demonstrate the firm's commitment to investing in our people."
Martin Hulls, Ward Hadaway's Managing Partner, said: "All of these promotions are well deserved and reflect their hard work, dedication and enthusiasm. Our people really enjoy what they do here and it's great to see them continue to develop professionally and personally at Ward Hadaway, whether they joined us as trainees or later in their career."
The promotions will take effect on May 1st, 2019.