Strictly Legal
LAW firm Ward Hadaway is offering something strictly different to its clients – a ballroom dancing evening.
The UK Top 100 firm's employment team is hosting the event at the BALTIC Centre for Contemporary Art on Thursday 13 February to give clients and contacts a taster of the delights of the dancefloor.
Attendees will get a chance to learn the foxtrot, following that up with a guide to the Latin favourite, the Cha Cha Cha.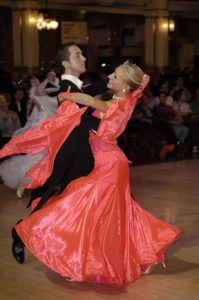 Taking the assembled dancers through their paces will be Ward Hadaway Employment Solicitor and ballroom dancing champion, Katie Armstrong (pictured with dance partner Ryan Lamb).
In addition to her day job at the law firm, Katie is also a National Professional Ballroom Championship finalist, with her dance partner Ryan Lamb, as well as a qualified teacher in Ballroom and Latin American dance with the Imperial Society of Teachers of Dance.
Katie said: "With Strictly Come Dancing being watched by millions of people both on TV and on the recent nationwide tour which visited Newcastle, ballroom dancing is now hugely popular with many classes now full up.
"As a result, it can be difficult for people to start dancing so we thought it would be great to invite our employment and HR clients along for an evening to try their hand at ballroom and Latin and enjoy what promises to be a really fun evening.
"The event is intended to be a taster session. Ryan and I will be leading the classes and, as well as clients and contacts, some of the employment team at Ward Hadaway will also be putting their best feet forward and having a go themselves."
Katie, who has specialised in employment law since qualifying as a solicitor in 2010, first got into ballroom dancing at Durham University.
She explained: "I had done other kinds of dancing before but I really got into ballroom. Ryan was at university and he had been dancing since he was four so he helped to train me. We started competing together and won the national university ballroom dancing title at the Winter Gardens in Blackpool twice in a row.
"After leaving university, we competed as amateurs on the national circuit where we reached the top ten in the country and in 2012 we got into the finals of the British National Championships."
As well as competing in national events, Katie and Ryan are also fully qualified dance teachers who coach the Durham University ballroom dancing team so attendees at next week's event can be assured they are in good hands.
Katie said: "It should be a great evening and who knows – maybe we could unearth some new dancing talent in the North East."