Occupational health reports – a help or a hindrance?
In my experience, when employers request and receive occupational health (OH) reports, they can be left thinking "and how exactly does this help?".
This is a common complaint and often the problem stems from the referral itself. An employer cannot adopt a one-size-fits-all approach when making the referral; you have to be specific and ask tailored questions to obtain the information you require in order to assist the employee. But before we get to that, let's quickly recap…
When can you refer for an OH report?
You may need to refer to OH if an employee has been off sick for a long period of time, has an underlying medical condition, has a disability or is returning to work following an absence. An OH assessment is either conducted through an in-house team or an external agency.
You should make an OH referral as soon as possible, as this will lead to a better outcome and a potential reduction in costs. Some employees may be reluctant to provide consent for an OH report and become suspicious of your motives; however, it is important to reassure them that the OH practitioner is independent and impartial and that the report is essential to understand their condition and how you, as an employer, can help and fulfil your legal duties.
Consent
As mentioned above, you will need to obtain the employee's written consent for the OH report, as it relates to sensitive medical data. It is not sufficient to rely on consent given in the employment contract.  It is important to remember that when an employee provides consent, they become part of the process and are entitled to see key documentation, such as the referral file, letter of instruction and a copy of the report. As such, make sure you do not include or note down any information that you wouldn't like an employee or an Employment Tribunal to be privy to.
Making a referral
A referral is done through a letter of instruction, in which you provide all the key information you want the OH practitioner to consider, along with copy documents. The OH practitioner will not know the employee and their role / job description and may have limited, or no, knowledge about your company, industry or sector.
It is up to you to build up a picture for them, so that they can make informed decisions and provide appropriate recommendations, otherwise they will simply rely on the subjective information provided by the employee during the assessment. You must provide background information, such as the job description / person specification, absence history, work history, copies of any previous assessments and details of any reasonable adjustments already in place.
In order to obtain a useful and informative OH report, that you can act upon to deal with impairments or sickness absence, you need to ask tailored and specific questions relating to: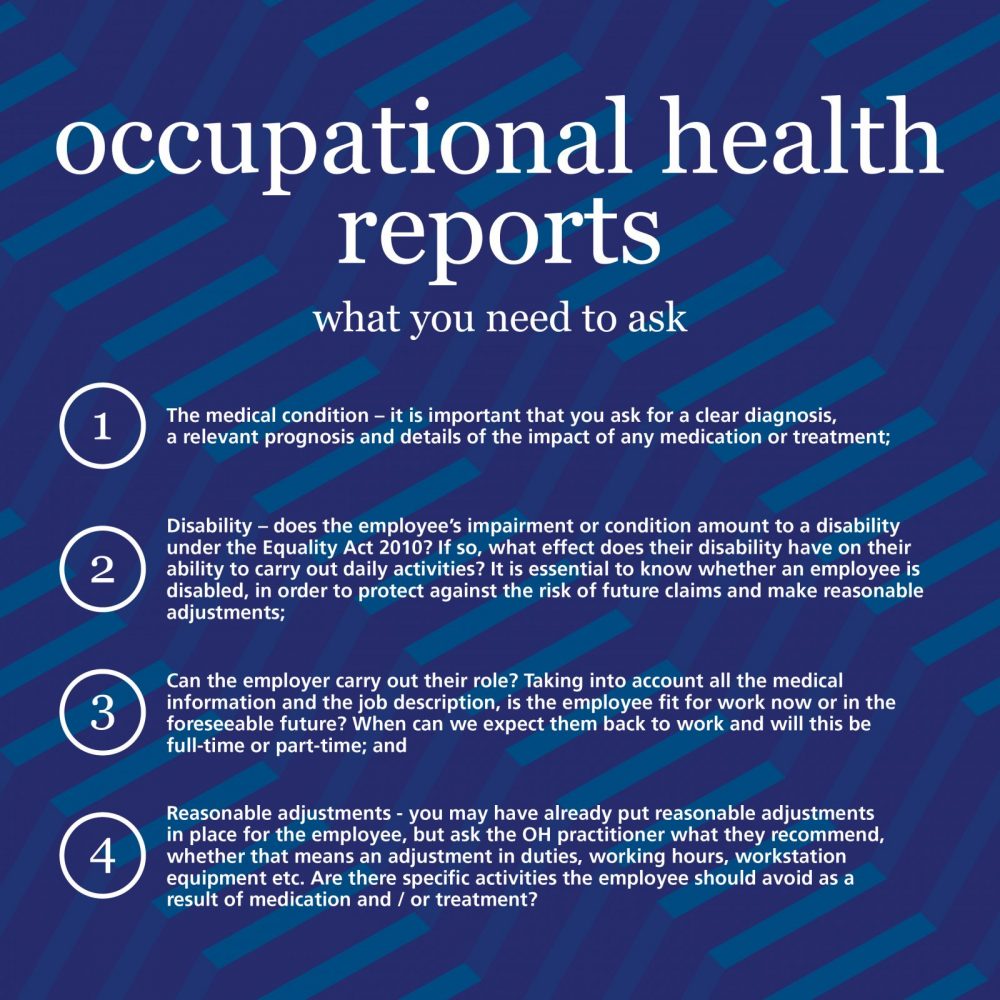 What to do after the report?
The first thing to do after reading the report is to follow-up with the employee and have a discussion about the report and next steps. Any recommendations should be implemented to the extent that they are reasonable.  Failure to do so could give rise to a failure to make a reasonable adjustments claim if the employee is disabled and can otherwise lead to grievances.
Please fill in your contact details to download a FREE copy of our template letter of instruction to an OH practitioner, and do get in touch with any queries.