Comply with immigration law or face fines of £20,000
Whenever you employ new people, you are required by law to check and record their immigration status as it relates to their right to work and live in the UK. It is vital that you carry them out correctly.
If you don't comply, your business could be fined up to £20,000 for every illegal worker and anyone involved in the recruitment of that person who has 'reasonable cause to believe that they were an illegal worker' could be imprisoned for up to five years. Immigration Enforcement can also issue Compliance Orders and Illegal Working Closure Notices. These sanctions have the potential to cause significant disruption to a business; as they may oblige a company to temporarily cease trading or prohibit access to the premises.
In addition, a director who is in breach of the illegal working legislation may be disqualified from holding directorships.
Any civil penalties imposed by the Home Office are documented and published online; this could cause reputational damage and may also negatively impact any future immigration applications made on behalf of the organisation.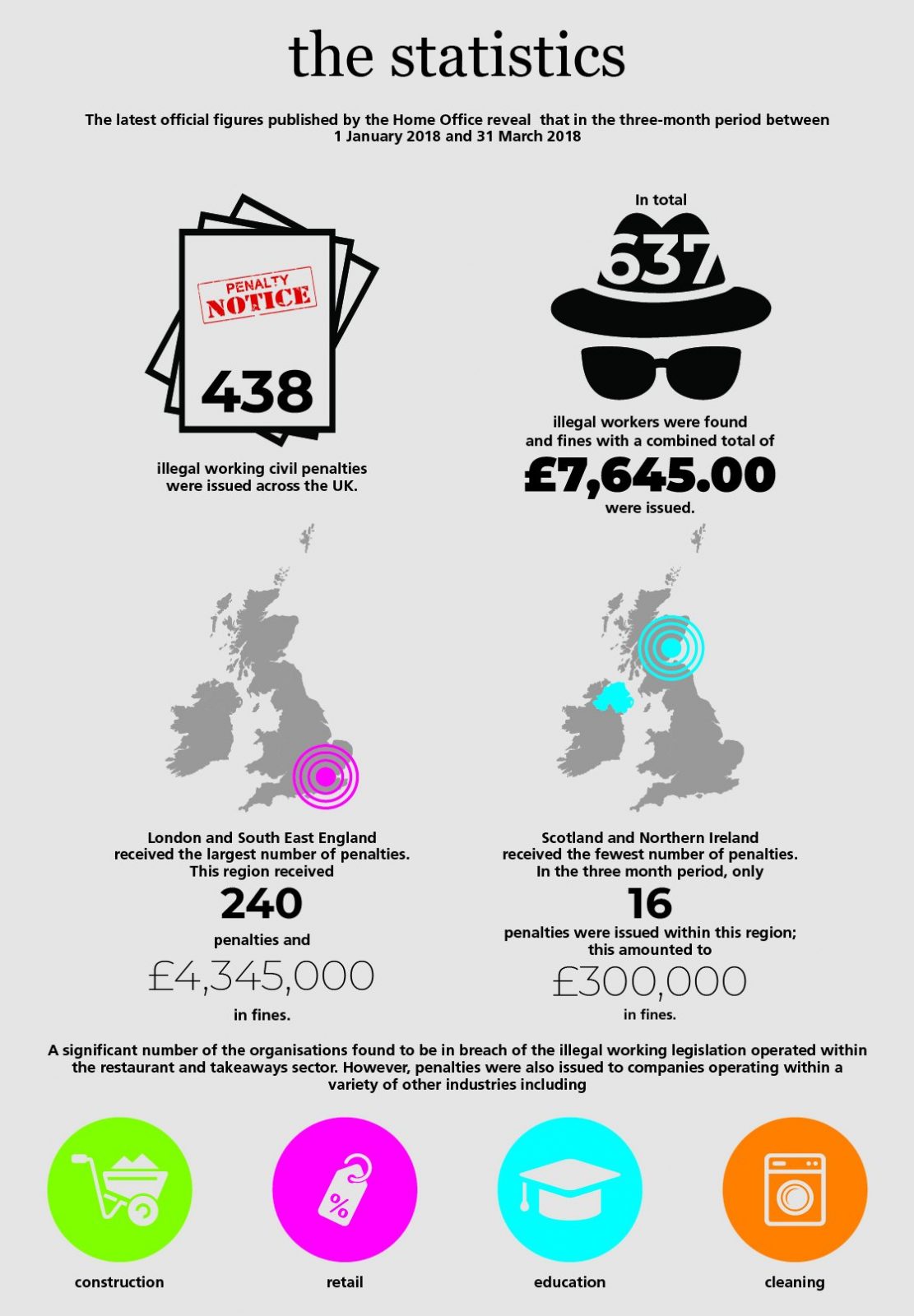 What you should do
Check – To avoid the pitfalls, all employers must carry out right to work checks on all employees – even British nationals – by examining their ID documents. This could include their passport, national identity card or biometric residence card.
Copy – Once an employer has examined the original documents which show the person has the right to work in the UK, they must copy them and certify the copies before storing them securely as a PDF or hard copy print-out.
Retain – The employer should also keep copies for the duration of the person's employment and for a further two years or until they have been inspected by a Home Office official.
If an employer does this, they will have a "statutory defence" which means that if the Home Office finds out that the business has employed a person without the right to work in the UK, they may not be fined.
It's important to note that Immigration Enforcement Officers can turn up announced or unannounced at any UK business to check if there are illegal workers.
So what constitutes an illegal worker?
An illegal worker is someone whose right to work has expired or who never had the right to work within the UK. This includes people who have entered the country illegally, or those granted leave to enter the UK, but have either overstayed their visa which has expired or granted leave subject to specific conditions which they are in breach of.
Someone does not need to have employee status to be seen as an illegal worker. The offence of employing an illegal worker applies to anyone employed under a contract of employment, a contract of service or undertaking an apprenticeship. Additionally, contractors, temporary staff members and individuals completing voluntary work must also have the appropriate right to work in the UK.
For organisations found to be employing an illegal worker that hold a licence to sponsor workers from outside the European Economic Area, it can result to the licence being revoked or suspended, which may also result in their sponsored migrants leaving the organisation and the UK.
What does this mean for me
The prevention of illegal working continues to be at the top of the Home Office's agenda. As such, this is a topic that should be a top priority for managers and HR professionals.  Innocent mistakes or oversights in procedures can be costly and severely detrimental to employers.
How can we help
To ensure that you are complying with immigration law, please do not hesitate to contact us for a step-by-step guide on how to carry out a right to work check. The immigration team are able to provide advice to you and your employers on this as well as any other immigration law queries you may have.